ADHD: The Latest Fad and Money-Maker of the Psychotropic Generation
As a victim of ADHD, having personally suffered from the disorder since early childhood, I know, first-hand, the gravity and significance of the pitfalls and struggles befalling the illness. I also understand how it feels to be labeled with the ubiquitous, and seemingly debilitating, diagnosis of ADD/ADHD. And, finally, I have directly overcome the obstacles, which tend to be propagated by the Academic Community, discriminating and blocking affected individuals from attaining scholastic success. Further, identifying myself as a thriving and accomplished subject of the mental malady, I am blogging to raise awareness about the illness and debunk the faulty stereotypes that have proliferated in its wake. Through this blog, I seek to enlighten individual's plagued/blessed with ADHD, as well as their families, to more thoroughly understand this pervasive psychological phenomenon. From its genesis in the human psyche, to its symptomology, all the way to its remedies and treatments, and their respective abuses, I will bring visitors through a gripping and comprehensive tour of the specifics underlying and demystifying ADHD as a psychological categorization.
In today's social climate, the term, Attention Deficit Disorder, gets thrown around liberally, as more and more children and adults receive the diagnosis from Psychiatrists and other health care professionals. Still, Buttressing the already lofty magnitude of individuals that may or may not be legitimately suffering from the disorder as per a physician's evaluation, there is an even larger population of young adolescent and college-age students attempting to manipulate doctor's into granting them this in-demand and fashionably relevant categorization.
Namely, the recent and rampantly spreading contagion, characterized by the adolescent, and even, sometimes, the adult, population who take part in feigning the attention deficit disorder to illicit its psychopharmacological antidote, is a current and frequently employed practice becoming more and more common as we move through the 21st century. More specifically, the current generation has popularized and proudly endorsed the use of psycho-stimulant medications (i.e. amphetamines such as Adderrall and Vyvance) taken for their euphoric narcotic effects, or to get "high". Suddenly, it has become "cool", "hip" and almost a right of passage to get a prescription for any and/or all of these countless amphetamine and amphetamine derivative medications from a doctor, whether one authentically needs it or not. Just type: "How to get Adderall from a doctor" into your Google browser and watch as the page becomes littered with sites, blogs, articles and chat rooms specifically explaining the symptomology one needs to set forth during a doctor's appointment, the strategy to employ in obtaining a script, and other incidental tips aimed at bringing an internet-searcher closer to that coveted medicinal directive. One may even be able to retrieve lists of doctors willing to hand out prescriptions willy-nilly, in complete disregard for their efficacy in treating "affected" patients, and solely motivated by the monetary benefits inevitably reaped by them at the hands of pharmaceuticals. These corrupt professionals simply need blindly endorse any one of these stimulating psychotropic money-makers, and, in exchange, sit by, as their wallets expand and their ethical standards fall to oblivion, very much to the detriment of America's mental health profession, and the integrity of our evolving psychiatric knowledge-base and scientific advancement. What's more is that, by simply using the word Adderall in your search criteria, countless (usually illegitimate, but nevertheless existing) websites will abound on the screen before you, offering the sale of these, category II, controlled substances delivered straight to your door, from overseas, no prescription necessary.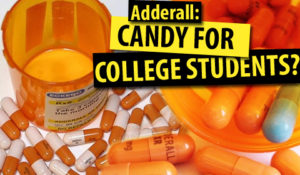 Its no wonder street drugs have taken a supporting role in the rising death tolls currently being attributed to substance related overdoses and drug related fatalities. In, fact, recently diminishing statistics linked to illicit drug use have freed up the hands of the DEA from the war on illegal narcotics, garnering more resources to combat the impending prescription drug epidemic. According to recent statistical evidence, obtained from Trusted Sources for Substance Abuse and Addiction Treatment, prescription drug use will soon be the leading cause of death in the U.S. And although most overdoses are typically attributed to the use of narcotic pain relievers, in some instances, opiate abuse is propagated, first, by an addiction to stimulants. Such a recipe making the amphetamine craze even more disastrous and detrimental to the American population than initial anticipations could have warranted or, in any way, predicted.
It is important to remember, that the over-diagnosis of psychological illnesses in general, has evolved, predominately through the sanctions and footing provided by the pharmaceutical industry, and the frenetically psychotropic culture it has bred within the psychiatric community. Hence, the treatment of ADHD with psychopharmacology, a reality that gives an ample financial underpinning to the psychotropic market, begets an atmosphere where it is profitable and even encouraged to diagnose patients with ADHD. The fiscal dynamics dictating Psychiatry's Scientific evolution, therefore make this attention deficit the holy-grail for 5 endorsement, and a catch-all mental deficiency used wherever even remotely applicable.
Suffice it to say that, decades ago, in the 1930's to 1950's, even into the 60's amphetamine (originally derived from Adrenaline and thought to help asthma sufferers) was a drug looking for a disease, and now, that disease has been deemed ADD/ADHD. Whether amphetamine is useful in the treatment of this mental illness requires my further and more thorough investigation. Until then, however, my next blog will encompass the symptomology of the disease and its comorbidity with Bipolar disorder, a mood imbalance which I also have direct, personal experience with, and one which I have deciphered and demystified throughout a great portion of my academic, emotional, mental and professional life.
The big take away I seek to advance by this writing is that ADD/ADHD seems to be a new fad used in describing a generation devoid of experience in long-winded intellectual tasks, requiring intensely critical concentration efforts, lasing extensive periods of time. Meanwhile, America's growing un-appreciation for work loads necessitating persistent and diligent intellectual "sweat equity", stems from our access to limitless information and global connectivity at the movement of our fingertips. Yet despite all of these conflicting contingencies we value societal ideals and social norms dictated by the importance of productivity, success, happiness and effortless intelligence and know-how. Ultimately, these didactics help encourage today's maturing generation to not only efficiently search for facts, but also to have facilitated comprehension of them, through any chemical means necessary. As, Nicolas Rasmussen, alludes to in the argument he advances in his book, On Speed; it is highly unlikely that the amount of people existing today are genetically more prone to attention deficits than the man of yester-year possessed a few decades past, but that it is, instead, the incongruity of current social expectations combined with the diminished intellectual rigor needed to succeed in research and fact finding, that creates a climate where, once ordinary and minor handicaps, are being pathologized with increasing frequency. All of this is happening in the name of the financial gain of the few and a social obsession with quick fixes and chemical promises, especially within the field of psychiatry.
Conclusively, it seems that ADHD, once an obscure mental deficiency, is now gaining ground as a pervasive, and even sought after diagnosis, enhanced and propelled forward by the reality of trending social expectations unaligned with the facilitation born from technological development and procreated by the digital age in which we currently exist. I'm not saying ADHD does not exist, it is very much present within the mental makeup of few, but because of the rampant prescription drug epidemic, the disorder has become lost in translation. Now health providers, pharmaceuticals and the media at large have successfully influenced the majority of Americans and the global psychiatric platforms of the world, of the disorder's manifestations within the psychological mental frailties of most members of the population ( and not the few who authentically possess the disorder); but, simultaneously society proclaims its abnormalcy as a psychiatric condition. And a condition that needs to be jettisoned at once via the use of toxic, debilitating and addictive medications. Medications that should be distributed with caution and impunity if we are ever to evade the disasters of the growing prescription drug epidemic sweeping the nation, and threatening to expand towards global reaches if left unchecked. As an addict of amphetamines I am imploring you to learn from my mistake, and not feed into the psychobabble convincing you that your scholastic efforts are not enough on their own. They are enough. You are enough. The temporary performance enhancement provided by the double edge sword of stimulants, will inevitably be exactly that, TEMPORARY PERFORMANCE ENHANCEMENT. Ultimately, when the dose you are taking ceases to work, and your tolerance increases, almost indefinitely, you are likely to experience amphetamine psychosis, a heart attack, stroke, or even a lethal opiate addiction. Throughout the coming entries, I will explore proven, non-medically-narcotic treatments, and thoroughly explain the etiology of the disorder, so as to broaden your understanding of the psychological deficit of ADHD. I will work towards helping you expand your ability to use the covertly sublime symptoms of this disease to your advantage. It may be a long road, but by the end, you will be glad you did not have to experience the menace of dependence, and the melancholic state encompassing psychological withdrawal. Keep reading to find ways to combat Attention Deficit Disorder. Of course, the proceeding warning may not be true universally, for everyone out there, but studies and research strongly indicate that the harm caused by these seemingly innocuous capsules far outweighs any psychological benefit obtained to the user. Join me as I research and share my findings regarding the true, healthy and, entirely, benign treatments and remedies for ADHD. It may be a bumpy ride, but the gratification likely to poses your person as a product of your sober and chemically balanced mind, will be worth the risk, and the effort it took to get you there.